How Metaverse Will Become the Turning Point in Healthcare?
Published by M.Rahul ,
5 min read
Availability, accessibility, and affordability are the three barriers to quality healthcare. But, the metaverse possesses the disruptive potential to transform patient experience. It can be crucial in medical education, teleconsultation, collaboration between surgeons, medical training, and disease prevention. The metaverse will create a shared environment by blending the real and virtual worlds. This facilitates caregivers to provide top-notch health services.
Deep Dive: The possibilities that exist in metaverse for healthcare
Virtual Clinic - Healthcare organisations can set up a virtual experience centre in the metaverse. Patients in digital avatars can seek expert consultations on mental health and nutrition from doctors. Thus, the metaverse can decentralise the healthcare system by creating a comfortable environment for doctors and patients.

Physicians can assess patients through 3D images and prepare treatment plans. 3D technology will ensure the experience is the same as a face-to-face consultation. Patients can visit a virtual clinic for both regular checkups and emergency appointments.
Virtual Hospital - Patients will benefit from remote consultation through a virtual hospital. There is an absence of distance barriers and long waiting times. The 3D virtual world offers options for diagnosis, treatment, and medication. Ill persons can visit the virtual medical facility using a customized digital representation. They can avail of services like counselling, pre-operative assessment, post-operative care, and physiotherapy. Doctors can see the progress made by patients towards their recovery.
Medical Training - The metaverse is suitable for conducting simulation-based training. Medical trainees will get a close view of the surgical procedures followed during surgeries.

Medical trainers can evaluate students' performance through video recordings of healthcare practices. Interactive training modules will enhance learners' understanding of key concepts. A computer-generated environment creates virtual clinical scenarios.

Simulations will help doctors and nurses to test their skills and retain knowledge. Wearable devices will provide instructions. Virtual Reality based training reduces risks as trainees can make mistakes and learn along the way.
Digital Therapeutics - Augmented Reality and Virtual Reality is apt for cognitive therapy. Haptic sensors help in rehabilitation, psychiatric evaluation, and routine consultations. Virtual therapeutics are applicable to pain management, behavioural health, and neurological disorders.
Surgical Procedures - Metaverse can enhance patient care significantly. Surgeons can collaborate in a virtual operating theatre. They can collect data from patients and provide test results immediately.
Radiology Imaging - Volumetric video technology will capture 3-D holographic images of patients. Instead of depending on 2-D imaging, physicians can rely on 3-D experiences for diagnosing diseases and surgery planning. The extensive visual capabilities offered by the metaverse results in closer collaboration between physicians and improved patient care.
DNA-based health prediction - Genetic data collected by genome centres match genetic data uploaded by individuals. Digital avatars will analyze DNA via saliva collection and use it for drug development and precision medicine. Healthcare enterprises can offer services like predicting and preventing diseases based on genetic data.
Digital Twins - It is a virtual representation of a real -world object (physical beings and human organs). Digital twins track patients and offer advantages like timely intervention, rapid diagnosis, and safer clinical trials. In the long run, digital twins can also predict patient recovery after surgery and their reaction to specific medicines. It can speed up the drug development process by analyzing the dynamic health records of patients.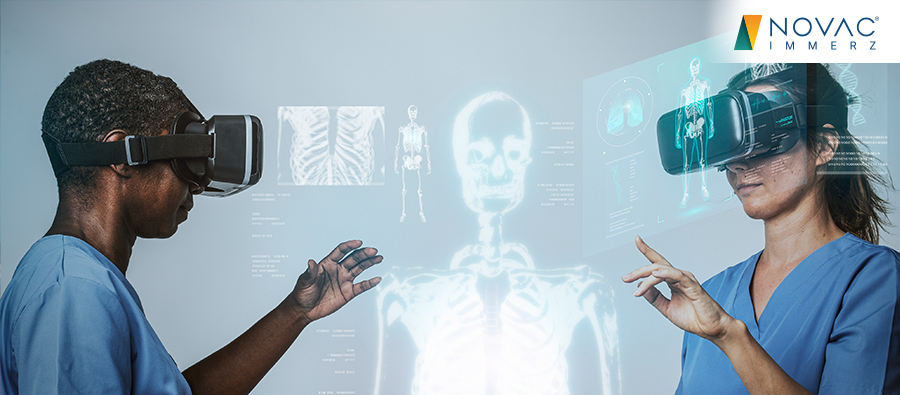 How is the Metaverse for healthcare industry poised to grow in the future?
The market share of metaverse for healthcare will expand from $6.85 billion in 2021 to $72.10 billion by 2030. It will grow at a yearly rate of 29.89% from 2022 to 2030. Besides that, Augmented Reality (AR), Virtual Reality (VR), Web 3.0, and Artificial Intelligence (AI) will revolutionize the healthcare industry.

Healthcare practitioners can directly reach out to their patients without any geographical limitations. Virtual worlds will enable seamless interaction between patients and doctors. Eventually, treatment is available at a lower cost.
Why choose Novac Immerz for metaverse healthcare development
Emergency Situations - Doctors in an emergency care system will be better equipped to handle patients. Medical students can attend on-site training sessions and learn the basics of emergency care. Novac Immerz offers immersive solutions through 360-degree video scenarios. It will help trainees go through the basic steps of surgical procedures without being present in the operation theatre.
Hazard Identification - Metaverse health and wellness solutions will recognize risks in advance. They take care of the confidentiality of patient data, the privacy of medical records, medication management, prevention and control of infections, and environmental safety. Our immersive training solutions will assist in developing situational awareness and visual object recognition skills. Adequate precautions are taken as threats to patients, staff, and visitors are known.
Equipment maintenance - Healthcare organizations can use immersive training simulators for preparing an alternative equipment maintenance strategy. They can maintain high-risk utilities like medical gas and vacuum after analyzing the age and complexity of the systems. Since medical devices involve meticulous maintenance, technicians receive digital work instructions. It will help them achieve first-time-right repairs. Remote access to experts will assist in smoothly conducting predetermined, emergency, and corrective maintenance.
How will regulations have a bearing on healthcare in metaverse?
Though the metaverse has immense potential to revamp healthcare, there will be concerns related to the management and security of patient data. Apart from cybersecurity worries, regulations on digital assets will determine the evolution of use cases. Besides that, blockchain technology will play a crucial role in health record management. Specifically, intellectual property laws, copyright infringement, trademark, and privacy will apply to metaverse applications. As regulatory norms mature, stakeholders can create a digital roadmap and offer healthcare services in the metaverse.

Recently, the Food and Drug Administration (FDA) has been regulating medical devices for conducting treatment in the metaverse. It is preparing a common framework for governing augmented reality, virtual reality, and digital therapeutics. Likewise, Health Insurance Portability and Accountability Act (HIPAA) regulations will also apply to the privacy and security of electronic medical records.

As the metaverse grows to a full-blown digital platform, effective mechanisms are essential for user consent. In the long run, the metaverse will become a collaborative environment for medical education, research and development, virtual consultations, telemedicine, and diagnosis.
Wrapping Up - Despite traditional practices and legacy systems, the role of the metaverse for healthcare industry can't be underestimated. It can significantly enhance patient outcomes through remote monitoring. The future will depend on how enterprises harness their telemedicine, therapeutics, clinical care, and medical training capabilities. Want to emerge as the pioneer in using immersive technologies? Connect with the expert team of Novac Immerz for metaverse healthcare development.