Explore How Automotive Brands Are Tapping the Potential of the Metaverse
Published by M.Rahul ,
5 min read
From being a buzzword, the metaverse has gone mainstream. With the advent of Web 3.0, immersive technologies are also going to make a significant impact on the automotive industry. The metaverse will play a major role in the production of vehicles, dealerships, and supply chain management.
The metaverse automotive market will surpass a value of $116.5 billion by 2030. It will grow at a yearly rate of 41.46%.
Hence, the future lies in digital factories, virtual showrooms, virtual test drive, and smart manufacturing units. In the years to come, the automotive industry will invest heavily in metaverse for manufacturing.
Let us take a look at how immersive technology will transform the future of the automotive industry
Digital Twins - Automobile manufacturers are building digital twins for real-time visualisation of factories. 3D will ensure real-time collaboration between digital humans. A simulated environment will test out workflows. Digital twins on the factory floor can analyse the functional data of vehicles. It helps optimise production costs and reduces the time to produce an automobile.
Digital twins will identify extreme scenarios in manufacturing plants and determine paths around the factories that are the safest for employees. AR VR in manufacturing will simulate the entire process based on true-to-reality submit scenarios.
Simulated Test Drives - Prospective customers can drive a new car from the comfort of their homes without visiting a dealer. Virtual Reality (VR) will create a simulated environment and establish a real connection for the people who drive. Later, customers can ask direct questions to dealers about their vehicles. A virtual showroom is recreated in 3D and AR. Drivers can compare numerous vehicles before taking a virtual test drive. They can sit behind the wheel and take the car for a virtual spin.
Virtual Tour - Automobile dealers can use the power of Augmented Reality and offer a virtual tour to interested buyers. For instance, a customer can sit inside a car and virtually know what it might feel like to own it. Further, it offers a 360-degree gyroscope experience.
After the virtual tour, potential buyers can access digital shopping features by ordering the car online. Virtual tours will save time for buyers as they can take it from anywhere without a walk-in. Novac Immerz specialises in offering 360-degree virtual tours for the automotive industry. Hence, prospective customers will have a positive experience with the automobile dealership before visiting it physically.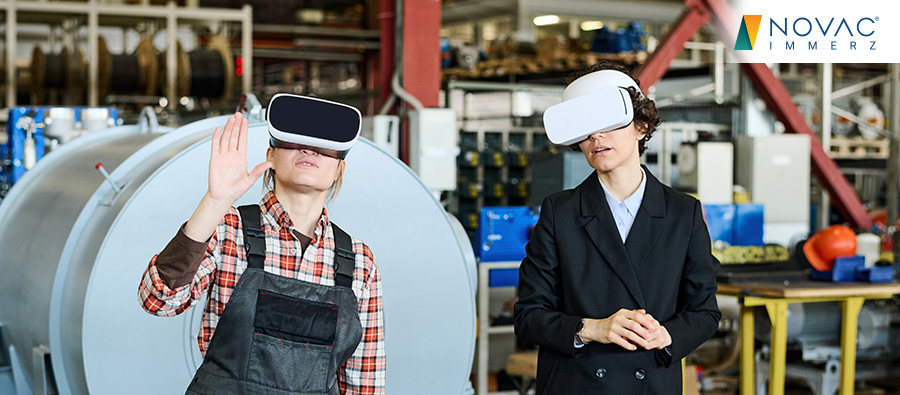 Virtual Showroom - Car dealers can create a virtual tour of their showrooms. They can upload 360-degree panoramic images of their vehicle models. Therefore, customers will get a good idea of the automobile's appearance. It will help dealers to satisfy customers and also ease their purchasing decision.
Virtual showrooms offer an immersive view of a car's features. It is apt for hosting vehicle launch events. Automotive brands can also allow customers to experience the showrooms via VR headsets.
A virtual showroom will include a description of the vehicle, an interior tour, a testimonial video of a real buyer, the showroom address, and a booking form for a test drive or appointment with the sales team. Our experts at Novac Immerz use photorealistic backgrounding technology to develop virtual showrooms. Hence, customers can view vehicles at the dealership as if they were in person.
VR Dealership - Automotive manufacturers can allow customers to explore new additions to the line-up of vehicles. They can introduce a brand experience gallery where potential buyers can interact with the digital automobiles.
Hence, customers will understand the working of new vehicles irrespective of their location. They can see 3-D models of vehicles by using their smartphones. The images get superimposed on their view of the real world. Depth perception will enable buyers to walk around the virtual car. Subsequently, they can view the interiors and exteriors in 360-degree stereo mode.
At Novac Immerz, we leverage immersive technologies to enable automotive dealerships to replicate the in-person experience in a virtual realm. VR acts as a sales-boosting mechanism for dealers.
Design and Manufacturing of Vehicles - Commonly, CAD software designs cars before building them. AR VR in manufacturing enables designers to see a life-size vehicle model. It is a viable alternative to clay models. Designers can spot surface mistakes easily by using visual markers. VR can integrate with the design evaluation system. Advanced visualisation of the interior and exterior parts helps evaluate the vehicle design's quality.
Training of employees - Engineers can train in a virtual environment while assembling specific vehicle models. Virtual Reality (VR) increases efficiency and reduces error rates before workers start working in the manufacturing plant. It also helps assembly line specialists to deal with dangerous situations and safety concerns.
Automotive companies can create a controlled environment by using VR for training assembly line workers. It enables them to perform ergonomic and safe movements. Eventually, this decreases the chances of occupational injuries. Thus, AR VR in manufacturing industry offers benefits like remote collaboration, superior performance, self-paced learning, and real-time progress monitoring.
Why Novac Immerz is the best choice for metaverse solutions
As a leading metaverse development company, Novac Immerz offers Augmented Reality, Virtual Reality, and Mixed Reality solutions for automotive and manufacturing industries.
Our specialisation lies in design and prototype building for AR VR in manufacturing industry, developing simulators for assembly line operations, emergency response training, and creating virtual showrooms. It provides advantages like actionable insights, increased engagement, scalability, and enterprise-grade security measures.
More automotive companies are getting into the metaverse. Hence, it is a golden opportunity that is unmissable. Integration of Augmented Reality solutions for manufacturing will create futuristic factories as part of the industrial metaverse. Do you want to offer automotive services in the metaverse? Have a chat with our Web 3.0 experts soon.