Decrypting the Role of Metaverse in the Future of Retail Industry
Published by M.Rahul ,
5 min read
Undoubtedly, buzz about the metaverse is increasing with every passing day. Brands are exploring the virtual world to offer a personalised shopping experience to their customers. Apart from increasing the sale of products, offering a metaverse experience to potential buyers will also boost engagement. Let us know how retailers are using Augmented Reality (AR), Virtual Reality (VR) and other immersive technologies to get closer to their target audience.
Digital Avatars - Brands are enabling customers to shop for goods with virtual avatars. The digital avatars will reflect the likes and interests of buyers. Hence, retailers can understand the preferences of customers. People can use a virtual persona to walk around stores in their avatars and represent themselves. Users can dress up their digital avatars by selecting different colours and forms. Thus, there will be a transition from transaction-based commerce to experience-based commerce. Purchasing a physical product from a store will resemble a virtual collection in the metaverse.
Virtual Showrooms - Metaverse in retail will provide customers with an immersive experience. Brands are setting up digital showrooms to enable shoppers to interact with products and salespersons. Eventually, this boosts spending as consumers would have established a personal connection with the brand. Virtual showrooms are suitable for hosting product demonstrations, product launches, and conducting events. Further, the metaverse is a 3D-rendered environment by taking visitors on a virtual walk-through.
Generally, virtual showrooms are multimedia-compatible. Retailers can add images of goods, embed videos, and include check-out links. It offers a 24x7 display of the store. Augmented Reality in retail will easily help brands to provide a 360-degree shopping experience powered by 3D.
Visual Merchandise - Brands are coming out with Non-Fungible Tokens (NFTs) for merchandise on decentralized marketplaces. Token owners can redeem them at no extra cost. Hence, the metaverse will bring the convenience of online shopping and integrate the atmosphere of a physical store. Retailers can fetch revenue by selling fashion accessories, gaming items, footwear, etc to customers. Besides that, merchandise will also serve as branded virtual goods.
Meta Mall - Recently, brands have been using virtual space to create a digital shopping centre. Customers can purchase digital products online and directly engage with sellers. A Meta Mall will allow retailers to create a digital version of their offline store. Subsequently, they can upload images of products and receive orders from customers. Virtual malls will either rent or sell shops. Metaverse in retail will offer shoppers a virtual reality experience through a life-like display of goods.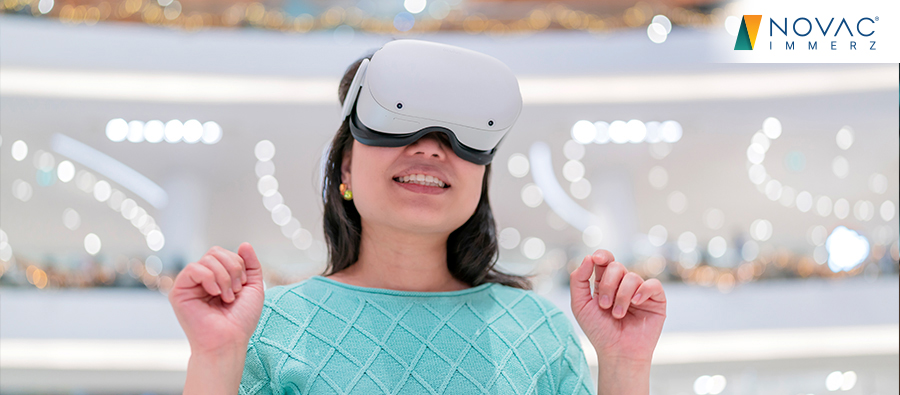 How will the retail industry benefit by foraying into the metaverse?
Attract Gen Z - Retailers can reduce bounce rates by grabbing the attention of tech-savvy shoppers. They can offer a curated brand experience by enabling buyers to enter a digital space and visualize the products. Using metaverse in retail is advantageous as the digital environment removes physical barriers. Generally, customers will engage longer with the brand in a virtual store. As use-cases of AR in retail evolve, brands will consider Gen Z a promising market.
Complementary buying channel - Retailers introducing a virtual storefront can sell more goods through immersive channels. It will complement the sales generated through physical outlets.
Builds loyalty - Virtual worlds are ideal for brand positioning. Metaverse in retail will offer a viable alternative to the in-store experience. It provides an excellent opportunity for brands to conduct giveaways, organize special events, and distribute limited-edition products. Instead of physically visiting stores, interested customers can examine goods, touch, and feel them in virtual spaces. Retailers who offer shoppers interaction with AR and VR elements will experience higher conversion rates and a rise in brand awareness.
Optimises resource consumption - Virtual reality in retail will help in reducing wastage. In today's times, brands face high product return rates along with delivery and logistics costs. However, virtual showrooms will facilitate customers to make better buying decisions. Hence, the metaverse will enable the retail industry to follow sustainable business practices.
Hyper-personalization of marketing campaigns - The metaverse helps brands to deliver a virtual experience to customers based on their behavioural patterns. Retailers will benefit from agility through cross-channel campaign management. They can collect customer data, segment their audience, and reveal their value proposition. Further, the metaverse is apt for targeted advertising and offering a personalized experience.
Why is Novac Immerz the perfect partner for metaverse implementation?
Metaverse offers a ripe opportunity for retailers to be part of the next generation of commerce. With easy access to digital stores, brands must focus on providing a superior customer experience. At Novac Immerz, we have been offering Augmented Reality, Virtual Reality, Mixed Reality, and WebXR solutions for a long time.
We are taking the first steps in the virtual world by venturing into the metaverse. Retailers can shake up the industry by using our metaverse development services. Our experts will offer in-depth assistance to brands aiming to provide an omnichannel shopping experience. The different use-cases include virtual try-on, safety management, and store virtualization.
Use our immersive content production services and provide a multi-sensory experience. Do you want to reshape the functioning of the retail sector in the years to come? Fulfil your customers' needs by using digital elements to enhance the in-store experience. It's time to use the metaverse for engagement, marketing and create an alternate reality.