How Will the Metaverse Redefine the Oil and Gas Industry
Published by M.Rahul ,
5 min read
As brands forge into the metaverse, the oil and gas industry can't be left aside. The metaverse can serve as a bridge between the physical and virtual worlds. Immersive technologies will help stakeholders to reach out to their end-users via digital devices. Hence, enterprises must combine many technological elements to become early adopters. Let us explore how the oil and gas sector is transitioning towards the industrial metaverse.
Virtual Station - Users can visit a 3D model of the site. They can use smartphones, laptops, and Virtual Reality (VR) headsets to access the hybrid energy station. Later, individuals can fuel their vehicles by opting for liquified petroleum gas (LPG), biodiesel, hydrogen, and electricity. It helps in boosting sales of the integrated energy station. Customers who buy gas in the metaverse can fill up their vehicles.

Firms keen on harnessing the metaverse in energy industry can attract customers by offering facilities like shopping malls, car wash, and outdoor terraces. Thus, gas stations can utilise immersive technologies and provide users with a unique experience.
Virtual Outlet - Brands can sell customers virtual goods like gas, fuel, renewable energy, and lubricants. Notably, the metaverse will serve as a virtual world to sell convenience products. In the future, energy companies in metaverse will set up convenience stores to sell downloadable virtual commodities.
Operational digital twin - Field engineers can have real-time visibility over the energy assets through an immersive layout. Digital twin in energy industry will offer benefits like better decision-making, low downtime during maintenance, and real-time asset traceability. The digital twin will share information with technicians to take corrective resolutions. There are no risks as details about breakdown history, environmental concerns, and performance parameters are known in advance.
Safety training - Energy industry in metaverse can conduct safety training for workers in an immersive environment. Subject matter experts can help trainees to make better decisions in the field. Brands can establish environment, health, and safety training modules in the metaverse. Subsequently, learners can practice critical tasks.
Digital power plants - Oil and gas enterprises can set up virtual power plants and benefit from energy efficiency. Shared operation centres will ensure real-time asset monitoring and optimise human resource usage. Microgrids powered by blockchain will facilitate hassle-free energy trading in a peer-to-peer manner. Workers can cost-effectively conduct maintenance through virtual site visits and remote assistance.

Digital power plants act as a replica of real-life industrial plants. They help streamline remote operations. Workers can view the physical assets in 3D format. Further, sharing of automatic alerts minimises downtime.
Non-Fungible Digital Twins (NFDT) - The energy industry can achieve its net zero emissions goal by developing non-fungible digital twins. Digital collectibles will represent real-world assets in the metaverse. It creates a digital copy of the real world. Hence, information about assets in the metaverse is automatically stored on the blockchain.

For instance, investors who intend to acquire green real estate can buy carbon neutrality tokens. They will receive real-time data about building occupancy, carbon footprint, footfall, and electricity usage. Non-Fungible Digital Twins can integrate with industrial plants and manufacturing sites. They will mimic real infrastructure conditions by establishing a simulated environment. It helps in the real-time monitoring of energy consumption and the carbon footprint of equipment.
Industrial Replicas - Energy companies in metaverse can recreate the industrial environment. It helps in virtually testing changes to energy infrastructure. Oil and gas enterprises can decrease costs and associated risks by checking devices and measuring emissions in real-time. It offers greater visibility over production lines. Industrial replicas will change the operation and maintenance of plant assets.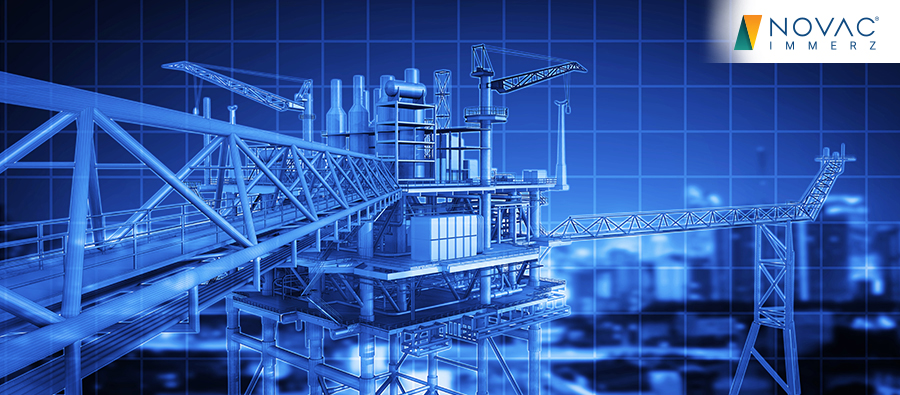 Our Immersive solutions for Oil and Gas Industry
Workforce Training - The possibilities for education and training are endless for the energy industry in metaverse. Oil and gas enterprises must allocate a separate budget for the industrial metaverse. Our immersive technology experts will create a digital twin of a plant or machinery. Workers who upskill themselves will gain a better understanding of products. This results in increased productivity and improved performance.
Risk and Safety Management - Competent emergency response teams ensure safety in day-to-day operations. Hands-on training will reduce accident rates significantly. Workers get updated on evolving rules and regulations. It enhances their risk preparedness.
Plant Operations - Energy companies in metaverse can get a real-time view of plant operations through 3D virtual representation. Digital twins of sophisticated equipment/ machinery will offer benefits like prevention of damage, reduction in wastage, greater throughput, and better collaboration. Metaverse oil and gas enterprises can create operating procedures after defining protocols and standards.
Equipment maintenance - Metaverse will have a significant impact on industrial maintenance. Creating a virtual production line will help identify potential bottlenecks in sensitive machinery. Our expertise lies in creating immersive training simulators, scenario-based training, on-the-job training, and the execution of preventive maintenance.
Wrapping Up - As the energy sector digitises its operations, the metaverse will change the landscape. Creating a simulated digital environment will enhance worker safety in production processes and rig maintenance. Do you want to create a persistent virtual world? Contact the team of Novac Immerz, and take advantage of the opportunities brought in by the metaverse.